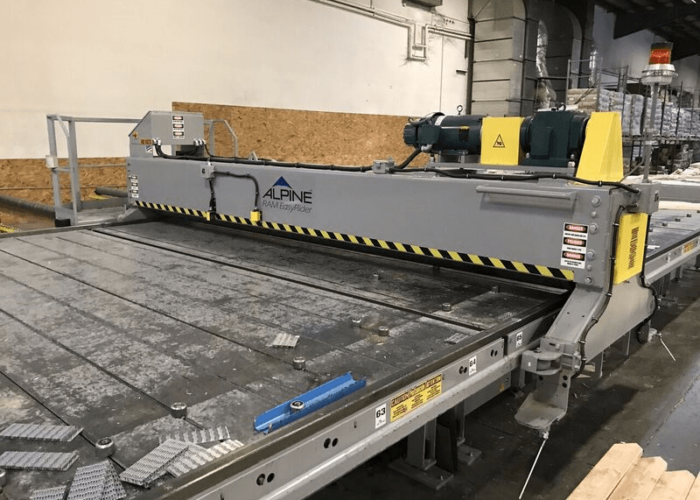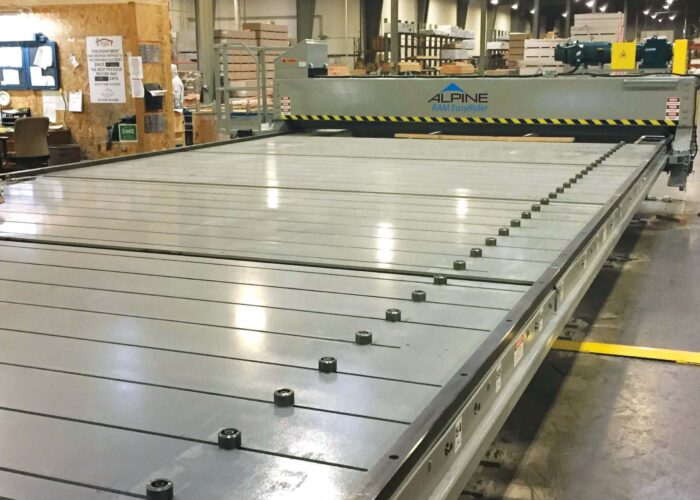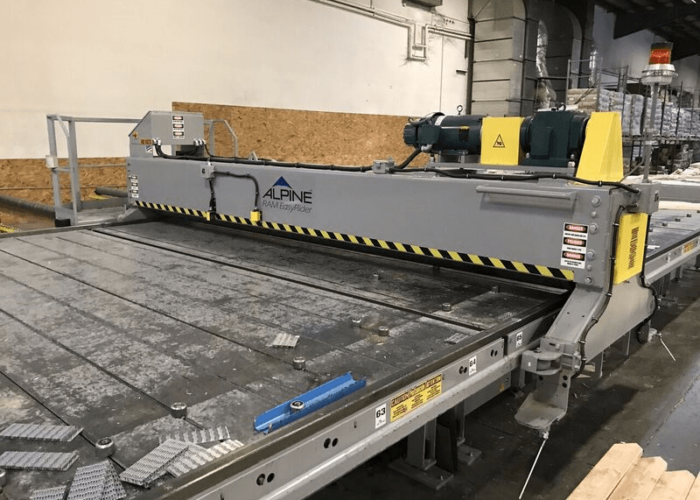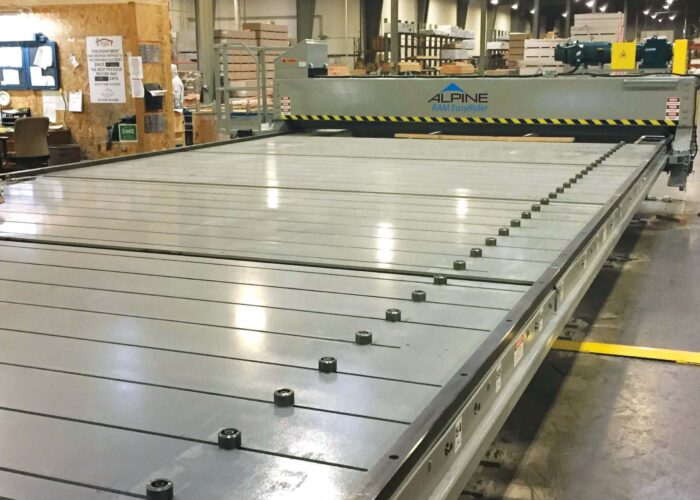 AutoSet Plus
Alpine's AutoSet Plus is the latest product in the company's history of innovative truss table automation. AutoSet Plus contains updated automation technology enhancing our customer's production. With set up in less than 25 seconds, this computer-controlled jigging system is engineered to be efficient and accurate. The automated steel pucks give workers the ability to keep a consistent pace throughout their shift, with higher accuracy and reduced employee fatigue. Fast, consistent production results in reduced labor costs and quicker turnarounds.
Standard Footprint: 18'-7" x Customer specific x 7'- 6" (W x L x H)
*as shown
Reliable
Engineered to be accurate, efficient and durable
Quality Production
Fast, consistent production with reduced labor costs and quick turnarounds
Ease of Operation
Easy to learn, use & maintain
Features
Features on-screen graphics, directional prompts and advanced diagnostics
Durable steel top with quick setup time and precision laser cut table-top
SmartView and Windows 10 compatible.
To alert the assemblers when a group of lift-outs is about to operate.
To avoid being hit with the gantry.
Operators can run the table in English, Spanish or French
Our equipment is backed by a highly trained support team ready to assist you with any specific equipment needs. Please call (800) 521-9790 or email our experts at machinerysupport@alpineitw.com for onsite service or technical phone support.
Specifications
| | |
| --- | --- |
| Gantry Roller Face Width | 14 ft. 7 in. |
| Gantry Overall Width | 18 ft. 7 in. |
| Gantry Travel Speed | 140 in./min. |
| Table Length (Per table) | 7 ft. 1 in. |
| Table Width (Between Rails) | 14 ft. 3 in. |
| Maximum distance between top and bottom automated pucks | 12 ft. 6 in. |
| Truss Jigging Setups/Groups | 1 to 4 groups per system |
| Air Requirement | 2 CFM per liftout at 100 PSI (when activated, not a constant draw) |
| Operating Temperature | 32° to 104° F |
| Amperage Requirements | 480 V, AC, 3 Phase (Customer must provide transformer if other than 480V-3PH) • 25 Amp per Gantry • 15 Amp for the Controller Box • 20 Amp per 16 Automated Axis |
| Foundation Requirement | ≥6" thick reinforced concrete |
| | |
| --- | --- |
| Languages | English, Spanish, French |
| Voltage | 480V |
| Table width | 14 ft.-3 in. |
| Maximum span between automated pucks | 12 ft.-6 in. |
| Air requirement | 2 CFM @ 100 psi per liftout |
4 automated pucks, 4 manual pucks, 7 baseline
8 automated pucks, 7 baseline
Additional computer stations
SmartView
Additional gantry heads
| | |
| --- | --- |
| Emergency Stop: | Pushbuttons |
| Safety Compliance: | ETL listed panels |
| Labeling: | Trilingual (English, Spanish, French) |
| Press Movement: | Horn (85db) and flashing light |